Wisdm Reports Pro for LearnDash adds quite a few additional features to the free version of the plugin. I'll include a brief list of features below, and then follow up with more detail about each feature, along with some screenshots.
Features
The following features are only available in Wisdm Reports Pro for LearnDash.
Filter: Course Categories & Group: In Course Specific reports, you can use the Category & Group filters
Filter: Learner/User: You can view reports only for a specific user
Filter: Date, with preset dates
Number-only: Assignments Pending
Percentage: Course Completion Rate: This will be calculated for you, and displayed in the reports
Percentage: Average percentage of quizzes completed per course
Drilled-down quiz level reports
Customized dashboard view
Time tracking
Dynamic bulk export for quiz results
Export reports in .csv and .xls format
Exclude courses, user roles, and specific users from reports
Quiz Reports
None of the quiz reports are available in the free version. Upgrading to Wisdm Reports Pro for LearnDash unlocks all the quiz reporting. See below for an example of the quiz data.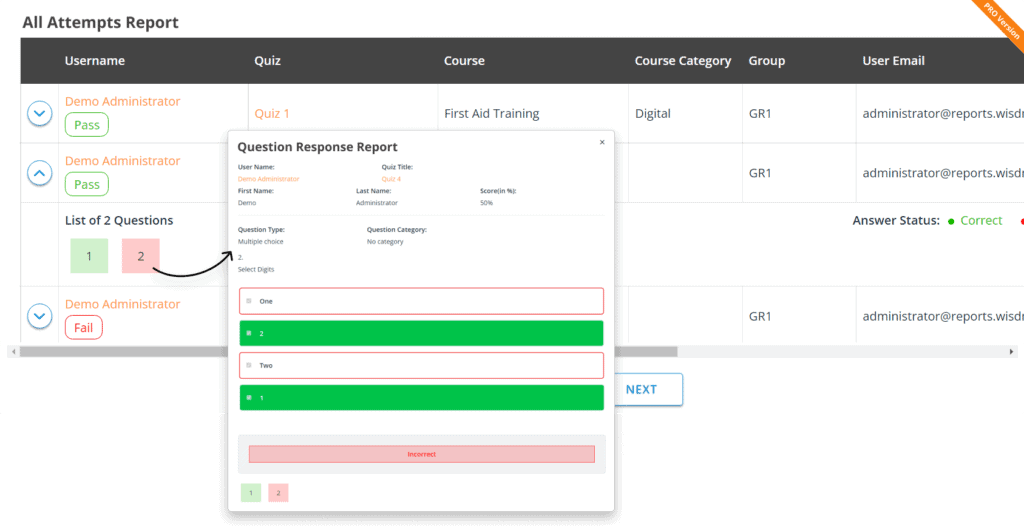 Customized quiz reporting allows you to show/hide all of the following data points for your LearnDash quiz reports.
Course Category
Group
User Email
Quiz Status
Quiz Category
Points Earned
Score (%)
Date of Attempt
Time Taken
…and all quiz custom fields (if you're using them)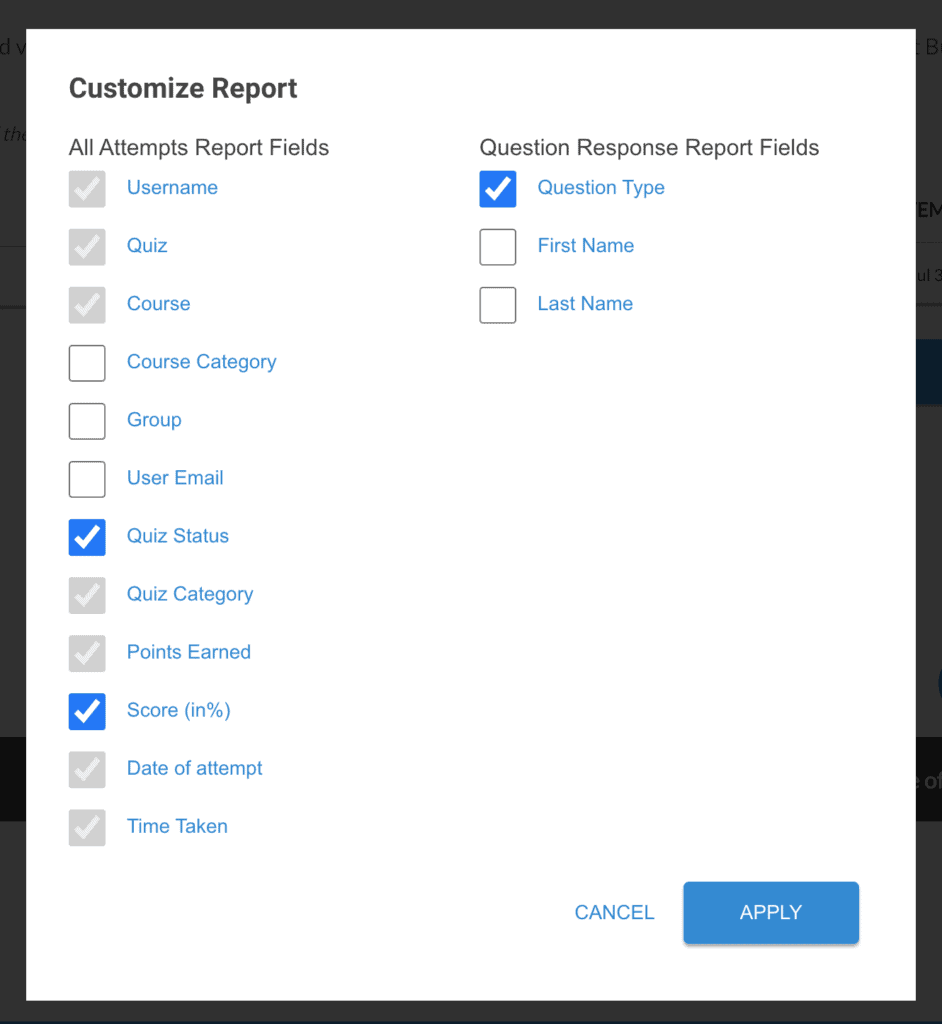 Time Tracking
Time tracking allows you to exclude time from "time spent on course" reports. When a user is idle, their time is not being tracked. A user is considered idle when:
they leave the browser tab of your site
they don't move their cursor for X seconds
they don't make a keystroke for X seconds
X is customizable to any amount of seconds you choose.
The default idle time is 600 seconds, but you can customize this however you'd like. Once the idle time is reached, a popup will appear on site for the user. Once this popup appears, the time is paused.
You can customize the message that is displayed in this tooltip.
When the user clicks the button in the popup, it will once again start tracking time. You can customize the wording of this button.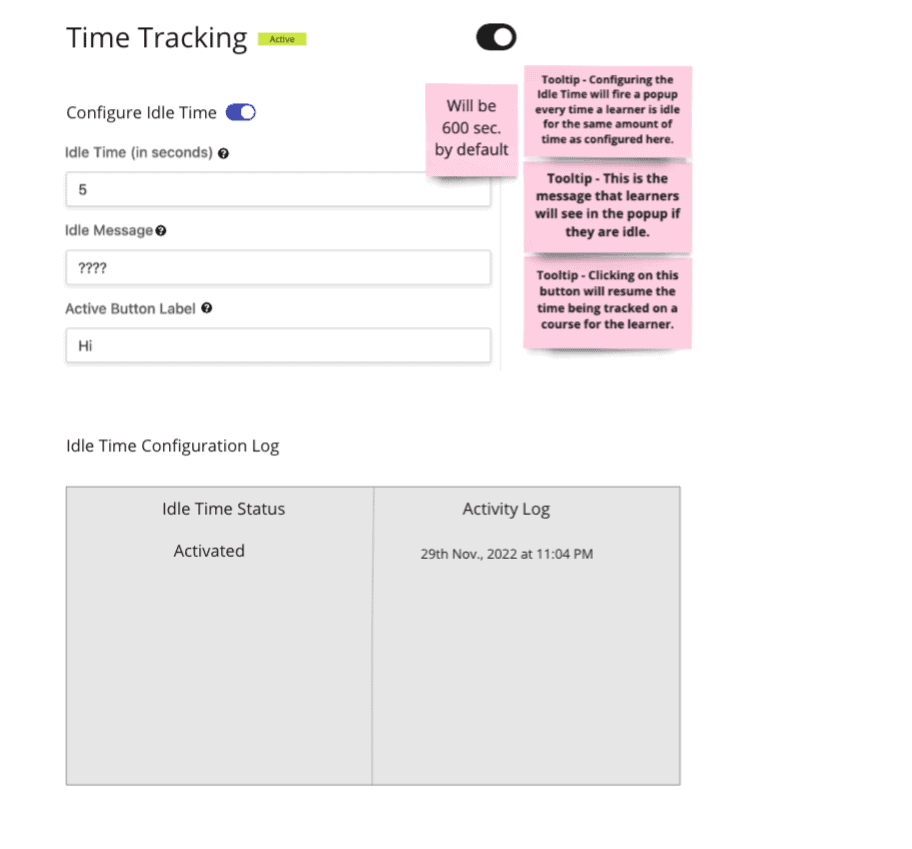 Track time spent in courses, lessons, or topics by closely monitoring learner inactivity
Notify users when they're idle for too long and easily identify learners that are at risk of not completing the activities
Evaluate the average time taken to complete a course and reward learners who have met the set criteria
Dynamic Bulk Export for Quiz Results
You can bulk export quiz attempts in .csv and .xls format. The following filters are available:
date of attempt
course
group
quiz
You'll see a preview of how many quizzes or quiz attempts are available based on your chosen filters.
NOTE
Downloading too many quiz attempts at once can put a high strain on your server.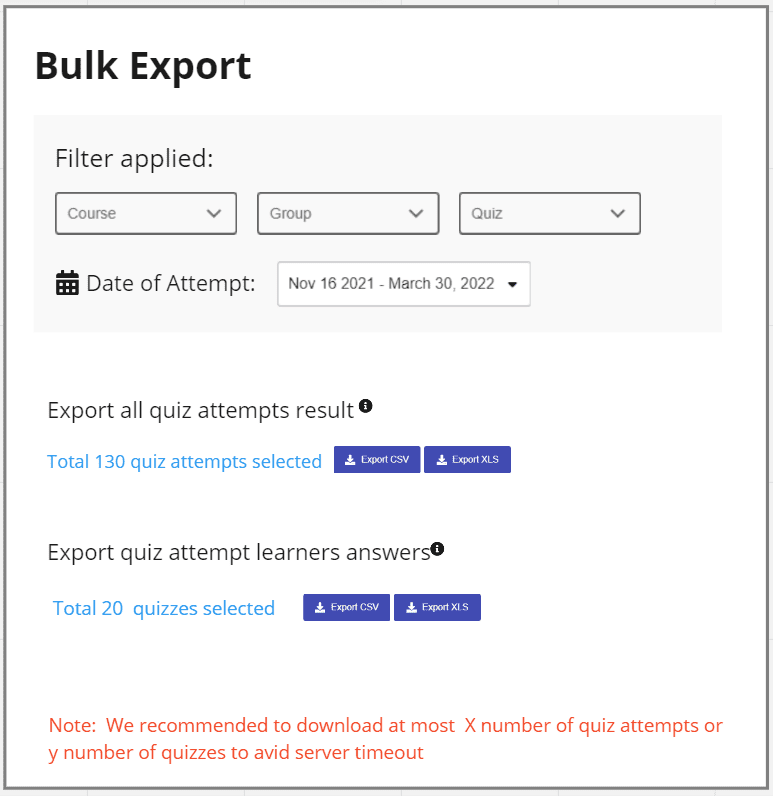 Export All Quiz Attempts report to analyze all quiz attempts as per the course, group, and quiz
Export the Quiz Attempt Learners Answers report to analyze quiz answers for all learners in the selected quizzes
View progress until the export is complete
Additional Reporting Blocks
Wisdm Reports Pro for LearnDash adds the following blocks:
Number-only Blocks
Graph Blocks
I don't see any new graph blocks in the pro version. I think just new features within existing blocks are activated once you upgrade to pro.